Christmas is coming and that means it's time to start thinking about your festive nail art! If you're not sure where to start, don't worry – we've got plenty of ideas to help you get into the Christmas spirit. Here are our top tips for creating beautiful Christmas nails:

1. Start with a clean canvas. Make sure your nails are clean, filed and ready for polish before you start your design. 2. Choose your colors carefully.

Red and green are classic Christmas colors, but feel free to experiment with other hues too. Gold and silver can also look very festive. 3. Use tape or decals to create straight lines.

This will help you create tidy stripes or geometric patterns on your nails without making any mistakes. 4. Get creative with glitter!
Decide on a design
Will it be a festive scene, like a snowman or a Christmas tree? Or perhaps something more subtle, like a holly branch? Once you have an idea in mind, sketch it out on paper so you have a template to follow
Choose your colors
For traditional Christmas nail art, rich reds and greens are always popular choices
But feel free to get creative with whatever color scheme you like best! 3
Paint your nails with a base coat of polish in the color of your choice
This will help the design stand out better against your natural nail color
Using either a very fine paintbrush or toothpick (or even a dotting tool), start filling in your design with the different colors you've chosen
If you make any mistakes, simply use acetone nail polish remover to correct them before the polish dries
Once your design is complete, finish off with a clear top coat of polish to protect your work and make it shine!
Cute Nail Art 2021 | Fun & Easy Christmas Nail Design Compilation!
How Do You Do Christmas Nail Art at Home?
Christmas nail art is a fun and easy way to get into the holiday spirit! Here are some tips on how to do Christmas nail art at home: 1. Start with clean, dry nails.

If your nails are oily, use a little bit of nail polish remover on a cotton ball to clean them before you start. 2. Choose your colors. For traditional Christmas colors, try red, green, silver or gold.

You could also go for something more festive like glitterypolishes or even holographic ones! 3. Paint your nails with one color first, then add the others as desired. If you want to be precise, you can use a dotting tool or toothpick to make small dots of color on your nails.

Otherwise, just paint freely! 4. Once you're happy with your design, let it dry completely before adding a top coat of clear polish. This will help protect your design and make it last longer.
How Do You Draw Christmas Nail Designs?
One of the best things about Christmas is getting to break out the holiday-themed nail art! If you're not sure where to start, we've got you covered with these step-by-step instructions for how to create three different Christmas nail designs. For our first design, we'll be creating a simple yet festive Santa Claus.

Begin by painting your entire nail red. Once that's dry, use a white polish to paint a small circle at the base of your nail for Santa's face. Next, add two tiny dots for his eyes and a curved line for his mouth.

Finally, use a black polish to make two thin lines above the white circle for Santa's eyebrows. For our second design, we'll be making an adorable reindeer. Start by painting your entire nail brown.

Once that's dry, add a large oval shape in the center of your nail for the reindeer's head. Then, use a black polish to make two smaller ovals near the top of the head for its eyes. Finally, use a red polish to create a small nose just below the eyes.

To finish off this look, add some green or red glitter around the edge of your nails! Our last Christmas design is perfect if you're looking for something more subtle and sophisticated. Begin by painting your nails nude or light pink.

Once that's dry, use a gold polish to create very thin stripes horizontally across your nails (we suggest using strips of tape as guidelines). Next, take a sparkly silver or white polish and apply it generously over each stripe (being careful not to go over any areas that aren't covered in gold). Allow everything to dry completely before moving on to the next step.

Finally, using either short strokes or one continuous line, draw an evergreen tree in the center of each nail using green polish . And there you have it – chic and festive Christmas nails!
How Do You Do Santa Nail Art?
Santa nail art is a festive way to show off your holiday spirit! To create this look, start with a base coat of red or white polish. Once that is dry, use a small brush to paint on a Santa hat in black.

For the beard, dip a toothpick in white polish and dot it along the bottom of your nails. Finally, add some glitter for extra sparkle!
How Do You Do Nail Art for Beginners?
Nail art is a great way to show off your personality and style, but it can be daunting for beginners. Fortunately, there are some simple techniques that anyone can learn to create beautiful nail art designs. One of the easiest ways to get started with nail art is to use stencils.

There are many different kinds of stencils available, so you can find ones that fit your individual style. Simply apply polish to the stencil, then press it onto your nail and remove it carefully. You'll be left with a perfect polka dot or other design!

Another approach is to use a toothpick or other sharp object to make small dots of polish on your nails. Once the dots are dry, you can connect them with lines or shapes to create all sorts of designs. This method takes a little bit more practice, but it's definitely doable for beginners.

If you want something a little more complicated, try freehand painting your nails. This involves using regular polish and a thin brush to paint whatever design you like directly onto your nails. It takes some time and patience to get the hang of this technique, but it's really rewarding once you master it.

No matter what level of experience you have with nail art, there are plenty of options out there for creating beautiful designs. Just have fun and experiment until you find what works best for you!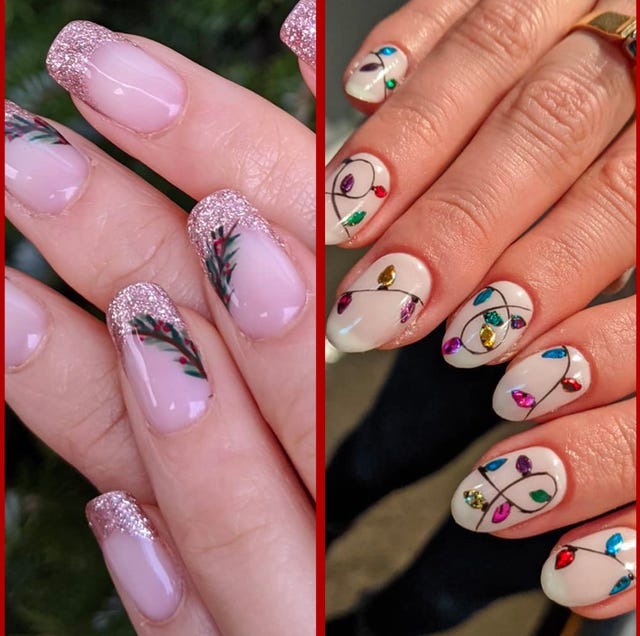 Credit: www.oprahdaily.com
Easy Summer Holiday Nail Art
Summertime is the perfect opportunity to try out some fun and festive nail art! Whether you're headed to the beach or a backyard barbecue, these easy summer holiday nails are sure to make a statement. For a Fourth of July-inspired look, start with a white base and add some red and blue stripes.

You can use tape to help get straight lines, or freehand it for a more rustic look. Finish things off with a top coat of clear polish for extra shine and protection. If you're looking for something a little more tropical, start with a pale pink base and add some palm fronds in green.

Again, you can use tape to get clean lines or freehand the design for something more organic. Add a top coat of clear polish to protect your work. Finally, no summer nail art roundup would be complete without an homage to the classic Hawaiian sunset.

Start with an orange base color and then add some yellow at the tips. Use a toothpick or other sharp object to create small dots of red throughout the design. Once again, finish things off with a layer of clear polish.

With these three easy designs, you'll be ready for any summer holiday!
Conclusion
The holidays are a great time to show off your creativity with some festive nail art. If you're not sure where to start, this blog post is for you. It provides step-by-step instructions for creating two different Christmas-themed designs.

The first is a simple yet elegant design that features red and green stripes. The second is a more festive look that incorporates glitter and sequins.Both designs are relatively easy to recreate at home and only require basic supplies. So grab your polish and get creative!